Werehog Beta enjoys using any weapon on the battlefied of pure gold and he can never get enough of the stuff.
Dual Gold Desert EaglesEdit
Werehog's main Sidearms are 2
Desert Eagles
that are made of pure
Gold
.He enjoys wielding them as much as his golden
AK-47
. 
Golden AK-47Edit

His Primary Weapon is a golden
AK-47
Assault Rifle that has been modified with little recoil by
Alpha Wolf
.
Golden P08 LugerEdit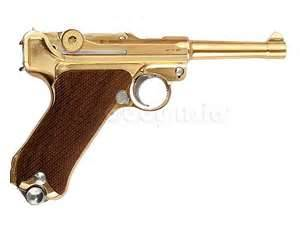 Werehog also owns a german
P08 Luger
that is made of pure gold.