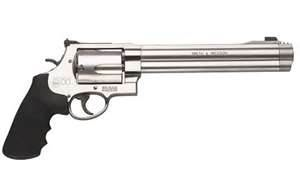 Weapon Name:
S&W 500

Type Weapon:Double-Action Revolver
Country of Origin:USA
Caliber:.500 S&W Magnum
Mag Capacity:5 Round Magazine
Introduced In:2003
Service Length:2003-Present
Users:
The S&W 500 Magnum is a magnum, manufactured by Smith & Wesson and is now known as "The Most Powerful Handgun in the World" which was thought to have been the S&W's earlier Model 24, chambered in a .44 Magnum and .44 Special. This weapon due to the recoil utilizes a compensator on gun barrel's exit to release any extra and excess gas.
Present DayEdit
To this very day, the S&W 500 is used by many of the men and women of the military, civilian and of course law enforcement. Some members of The Black Beret Corps use this same revolver, however they are required to be the used by people who can handle the recoil on the weapon.