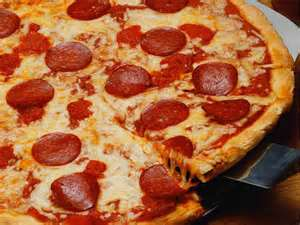 Food Name:
Pizza
Planet of Origin:Earth
Nationality of Cuisine:Italian and Greek
Pizza is an oven baked, flat, round bread that is topped with tomato sauce, various cheeses and toppings. It was invented in Greece, both Ancient Greeks and Byzantine Greeks. It is also made in Italy and has been to this very day. It is usually a pie cut into 8 slices, either with all one topping or multiple toppings at a time. It is a popular food of the people on Earth and is enjoyed much in the future as well.
Anchovies
Bacon
Ground Beef
Mushrooms
Olives
Onions
Pepperoni
Peppers
Sausage
Seafood
Sun-Dried Tomatos
Tomatoes
Vegetables